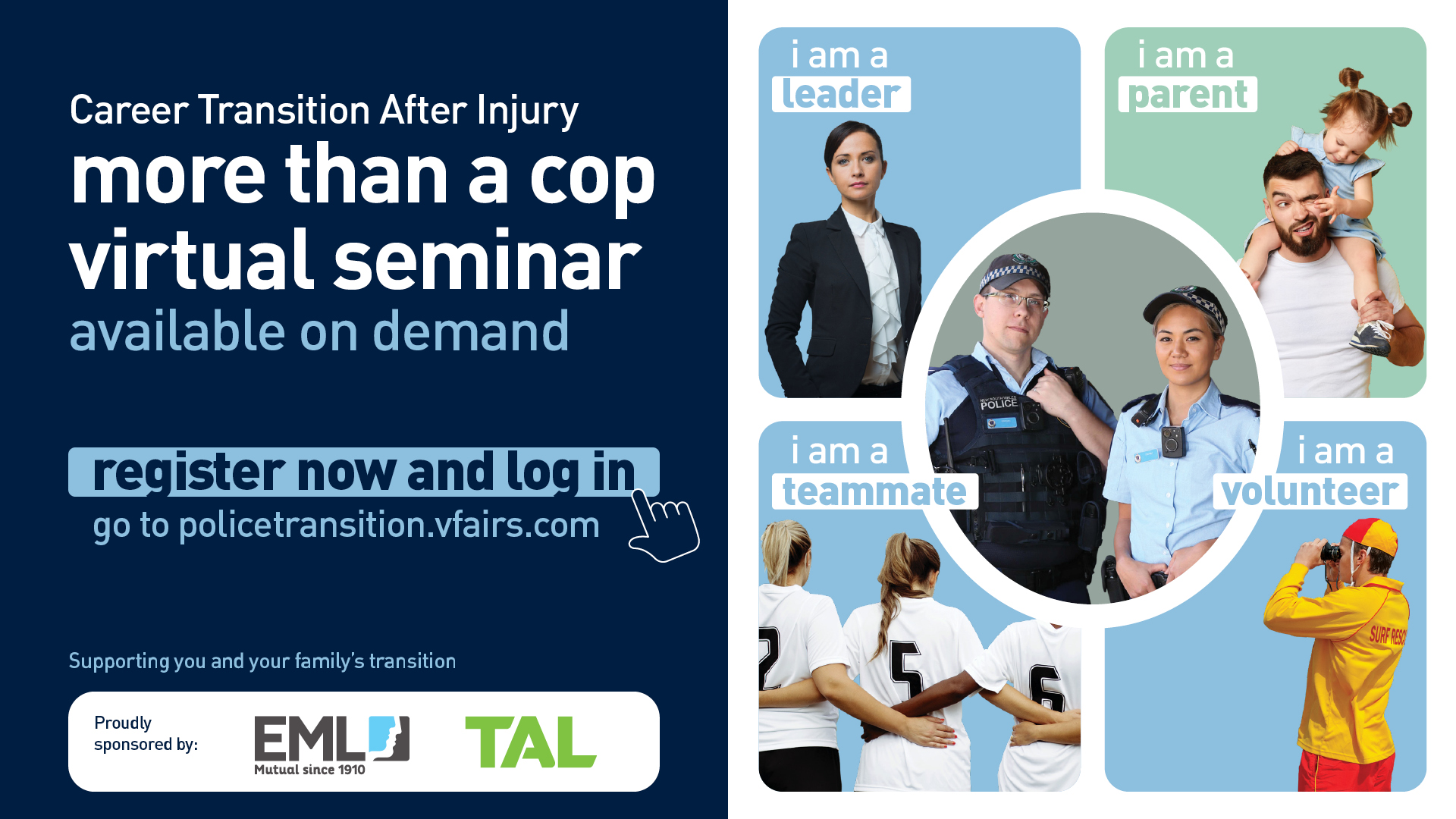 If you are a post 88 police officer with a compensable injury and are unable to return to work with NSW Police Force due to medical reasons this day has been arranged for you and your family to provide you with all the information and support services that you need to manage your transition.
Recognising your service, we want to continue to support you through your career transition.


Attending a Virtual Career Transition Seminar
Attending a virtual seminar has been made easy. It offers all the benefits of a face-to-face transition seminar but is accessible from any location 24/7 using any smart device or computer. By registering you will gain access to the website and all the content following the live event.
Finding Your Way Around
Main Lobby
Once logged in you will find yourself inside the Virtual Lobby, where you will have access to the Auditorium, Exhibition Hall and the Info Desk.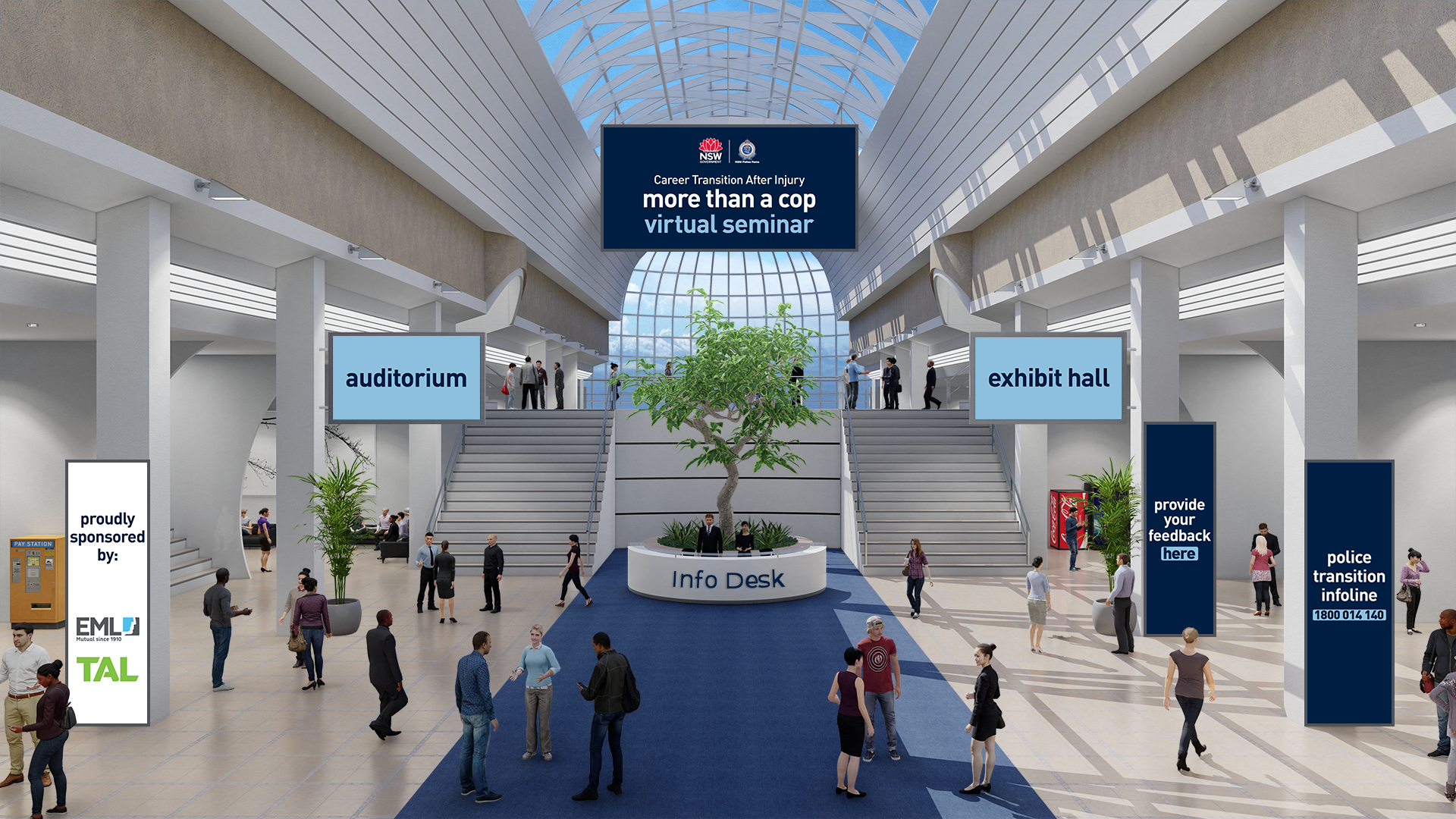 Exhibition Hall
The Exhibition Hall is where the stallholders will have their booths set up. You will be able to chat 1 on 1 with your stallholder through the live chat function and access all their key resources. During non-live days you will still be able to access everything that the booths have to offer including information and links, videos and presentations, stored documentation and contact information.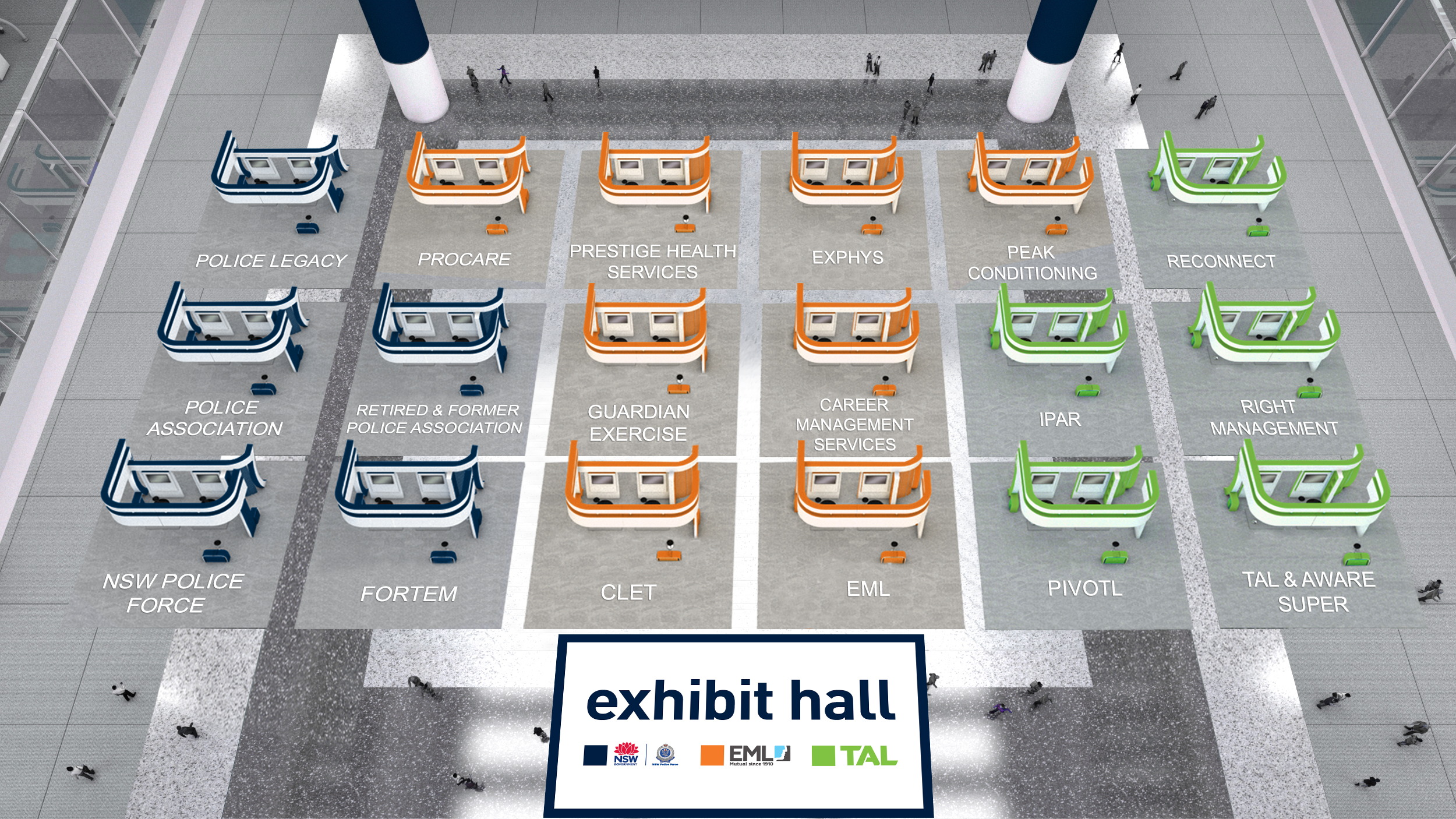 Auditorium
The Auditorium is where the presenters will be hosting their sessions. Please see agenda below. If you are unable to attend, you can view the presentations at any time after the live day event. During the live day presenters will also be hosting a live chat in their respective sessions, where there is opportunity for questions and answers.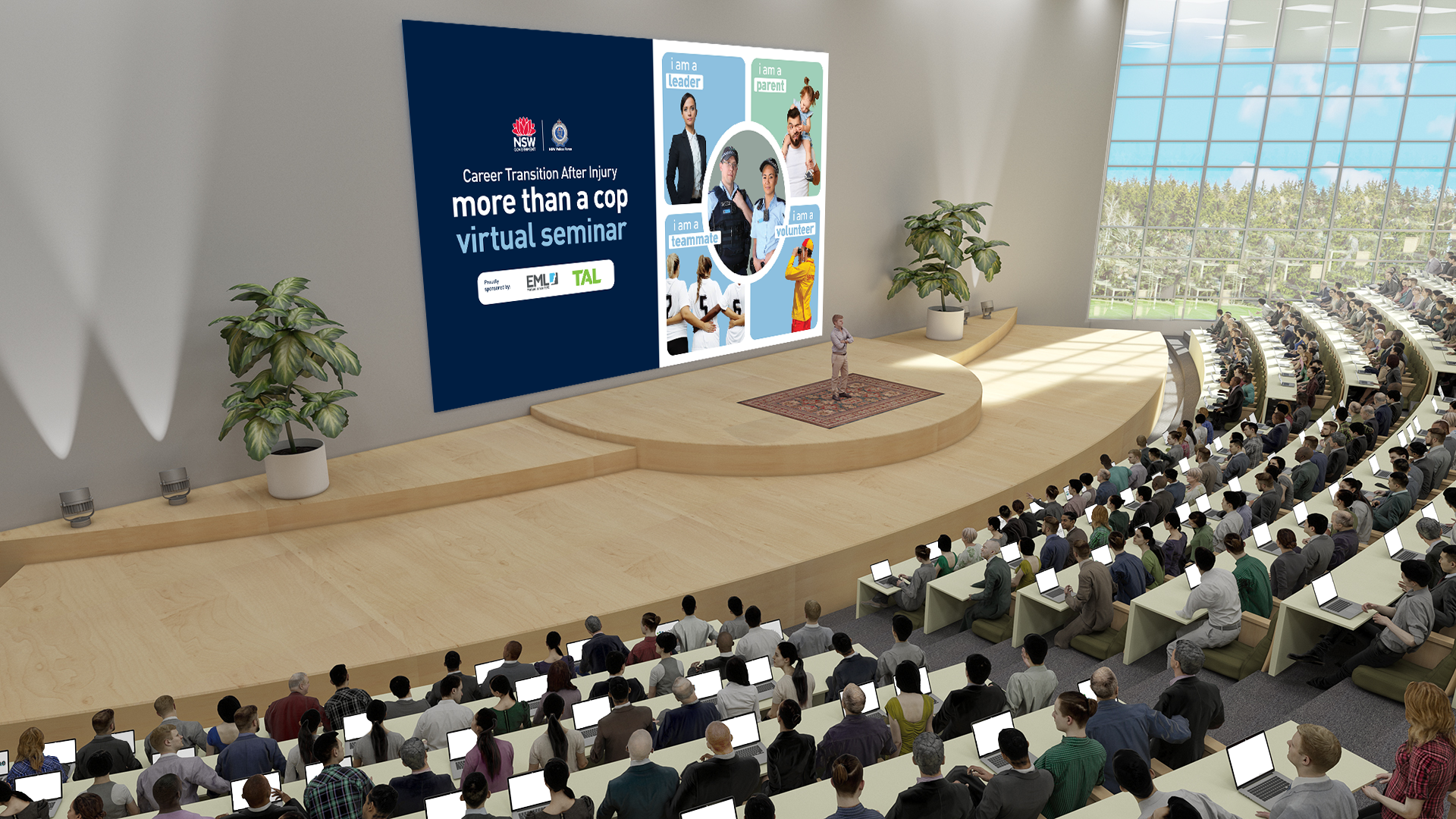 Virtual Showbag
As you make your way around the Exhibition Hall, you will be able to collect information and media from stallholder booths and place this in your Virtual Showbag. When you are finished for the day, you can simply download and email the contents to yourself.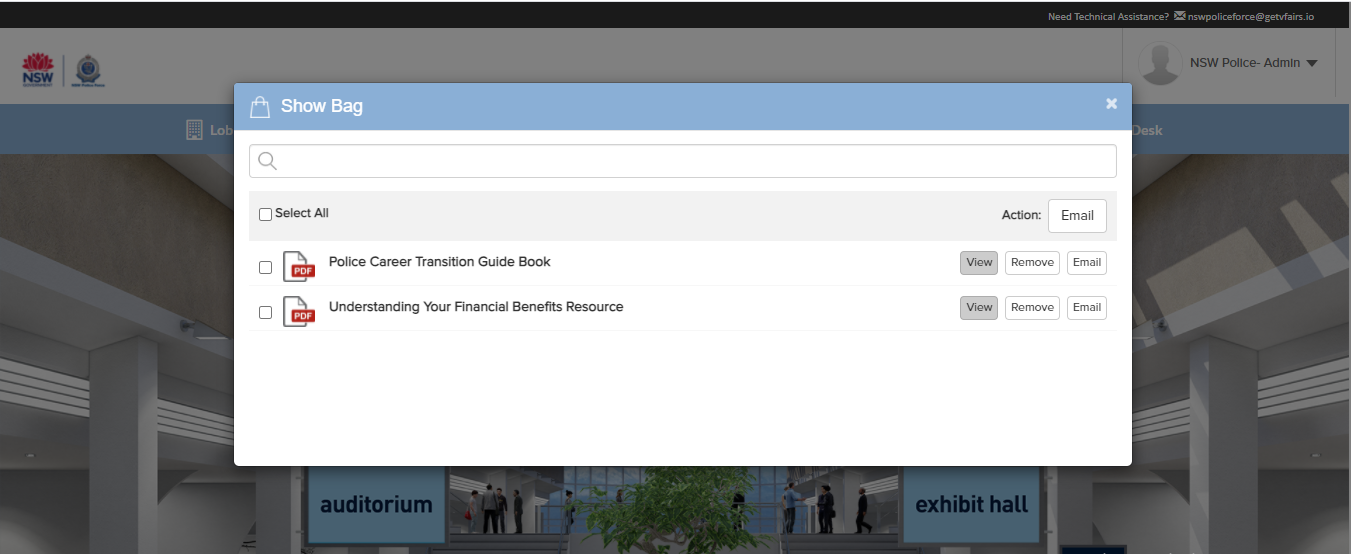 Agenda
On Demand

9:00AM
Welcome Message
Commissioner, Michael Fuller APM, NSW Police Force

9:10AM
Medical Retirement Process
Learn about the steps involved in the process from NSW Police, EML & TAL and what support can be provided to you and your family throughout the journey.

9:50AM
Mentally Preparing for Transition
Former Detective, Craig Semple shares his experience and recommended tools to mentally prepare for medical retirement.

10:45AM
Recognising Service and Support
Assistant Commissioner, Human Resources, Gavin Wood, interviewing Superintendent, Scott Tanner and Former Senior Constable, Helen McMurtrie. Being medically retired can be challenging; but shooting survivor Helen McMurtrie says no one needs to go through it alone.

11:10AM
Break

11:30AM
Family Support
Alastair Evans, NSW Police Family Support Coordinator Officer interviews a partner of a former officer, sharing the importance of family and what support services are available.

12:00PM
Career Transition
Jane Jackson, author of Navigating Crossroads, provides you with the tools to unlock your potential for growth and new possibilities.

12:50PM
Understanding Your Financial Benefits
This session has been developed for you and your families to gain a better understanding of your financial benefits and entitlements under the workers compensation and income protection schemes.

1:45PM
Thank you and close
Inspector Allyson Fenwick, Manager Deployment & Transition, Workforce Safety Command, NSW Police Force

4:00PM
Exhibit Hall close
Frequently Asked Questions